Yay!! I love these things! We do this every year so it makes it easy to just go in and rearrange things and remove the ones we don't want to do again and add in new things that sound fun. :) Yeah... I'm excited. So, here's our plan for this year. ;)
December 1st: Start filling David's stocking with good deeds.
Every Dec 1-24 we read a scripture, sing a song and read a store each night. The first story is the story is about a family who fills a manger with straw for each good deed to make a bed for baby Jesus. In our family we fill David's stocking with paper for our good deeds. We can't give him anything else for Christmas so this is our weird little thing we do. :)
December 2nd: Ward Christmas Party
December 3rd: Prelude to Christmas (stake musical program)
Paul is playing the guitar in the swing band for this program so the kids and I are probably going to go and support him. :)
December 4th: Watch First Presidency Christmas Devotional
December 5th: Sing Christmas songs together.
December 6th: Make Graham Cracker Christmas House
December 7th: Write letters to Santa
December 8th: Make a "cup o'sunshine"
These are cute little things to help brighten the days that have gotten so short. You decorate a cup and fill it with something to brighten someone's day then give them away to people. :)
December 9th: Make peanut butter pine-cone bird feeders.
December 10th: Collin's birthday party
December 11th: Drink cocoa and look at pictures from past Christmases.
December 12th: Look at lights at the local gardens.
December 13th: Make snowball soap surprise for the kids' friends.
December 14th: Volunteer at the Salvation Army
We're doing this as a field trip with Collin's school. ;)
December 15th: Watch "Polar Express" and eat popcorn.
December: 16th: Make our own Express.
This is a train made of rice krispy treats and decorated with candy and frosting. Fun fun!
December 17th: Secretly do something nice for a family member or friend.
This is a challenge extended to the kids but Paul and I join in on the fun too.
December 18th: Drink cocoa by the fire and read Christmas stories.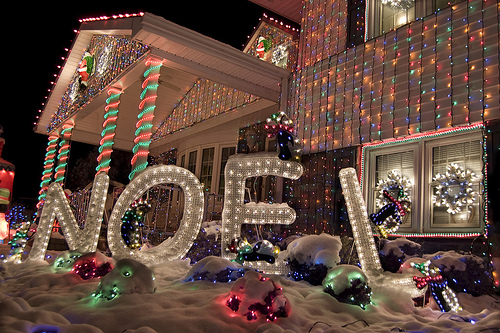 December 19th: Drive around and look at lights.
December 20th: Make and eat snowman pancakes for dinner.
December 21st: Yule log hike.
We go on a hike in search of a yule log to light in the fireplace for the longest night of the year. ;)
December 22nd: Make all the treats for Christmas baskets for extended family.
December 23rd: Possibly caroling with some friends.
December 24th: Christmas Eve Program
We have a Christmas Eve program that intertwined with music and scriptures. Awesome!!
December 25th: CHRISTMAS!!!!! :)